Do you blog using WordPress as CMS? So, what step do you take to make your blog search engine friendly? Try these top 10 the best WordPress plugins which can help in your website ranking.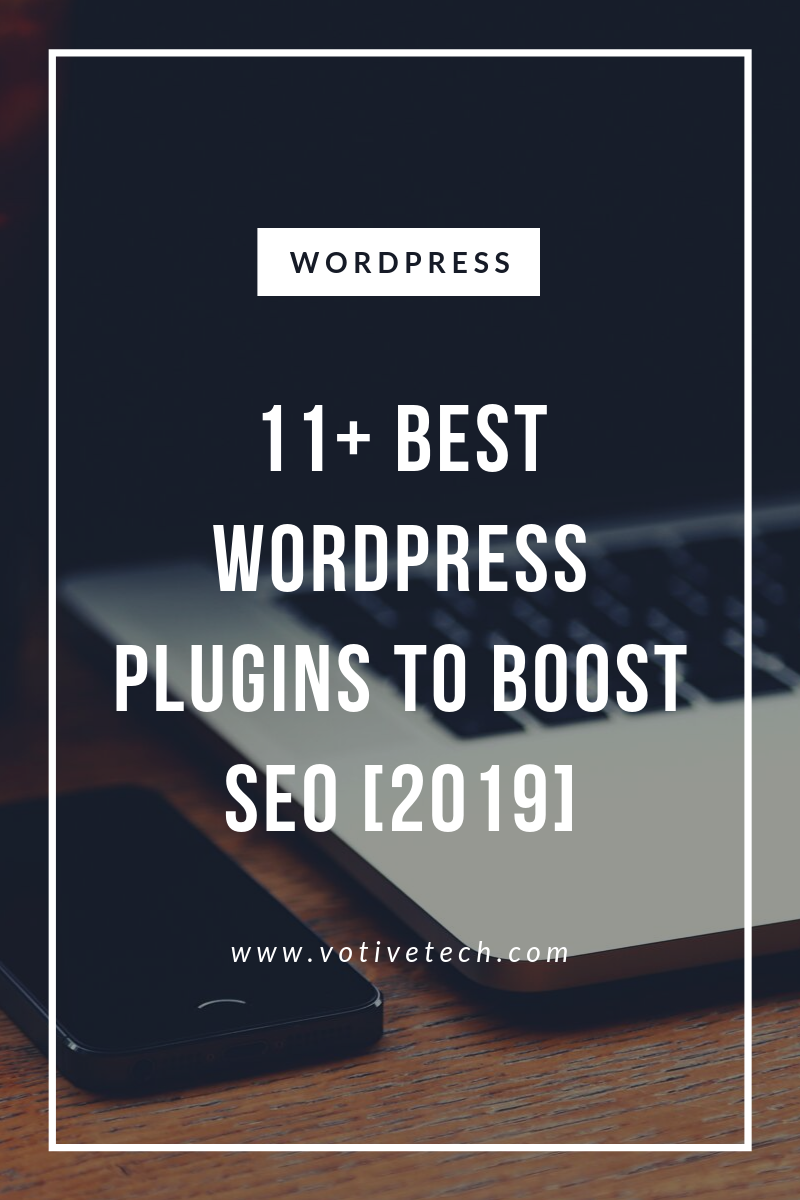 Simply, writing posts day by day and posting it doesn't make your blog rank go up.
So, if your answer for a given question is negative then you need to do lots of exercises and you need to focus on some important plugins as well.
There are tons or millions of WordPress user including some of the most visited sites and top sites in the world.
If you haven't started a blog yet check out this post How to start a Blog.
So, if you have started a blog read ahead.
Since WordPress is not alone can handle effectively you need to increase the efficiency of it using various plugins that need to Power Up or Boost SEO.
Many people write great content and do lots of work but still forget important things like WordPress Plugins.
So, we will discuss some major and very important plugins that you will need in your WordPress blog or website to get tons of visitors.
WordPress is famous for being SEO friendly.  With thousands of WordPress plugins for SEO to choose from, a few important plugins you will need in your blog to reach the next level of ranking.
From WordPress SEO by Yoast to XML sitemap, know that there's a WordPress SEO plugin that can help get you there.
Below, I'm going to write about 10 WordPress plugins that can help to get your blog or websites good rank in Google Search.
We will discuss some of the very important plugins that are worth trying but remember no one can guarantee that you can get 100% first page ranking but I guess if you use these plugins wisely and more important also focus on other SEO steps than you can get good ranking in search presence.
Best WordPress Plugins for 2019 – Must have to boost SEO
Here, is the list that includes some of the best WordPress SEO plugins. These plugins will help you to make your site SEO friendly and increase the presence of SEO with all the requirements needed in a modern website.
Yoast SEO – King of All SEO Plugins
Yoast is a search-optimization firm based in the Netherlands. Yoast is currently considered the most used search engine optimization software available for WordPress users, with its developers responsible for over 10% of WordPress releases.
It is the most important and best WordPress plugins that every blogger need to have in their websites or blog is Yoast SEO. There is no doubt that the search engine is one of the powerful and major sources of any websites or blog.
Yoast SEO has become one of the most popular plugin in WordPress with more than 5+million active users and 25k+ 5 star positive ratings.
It can help you improve your blog in SEO and maximize visitors in your blog as well. Yoast SEO is available in both premium and free version. Make no doubt of using this plugin since it has powered already more than 5+ Million websites.
To install Yoast SEO.
Go to Plugins> Add Plugins > Search "Yoast SEO"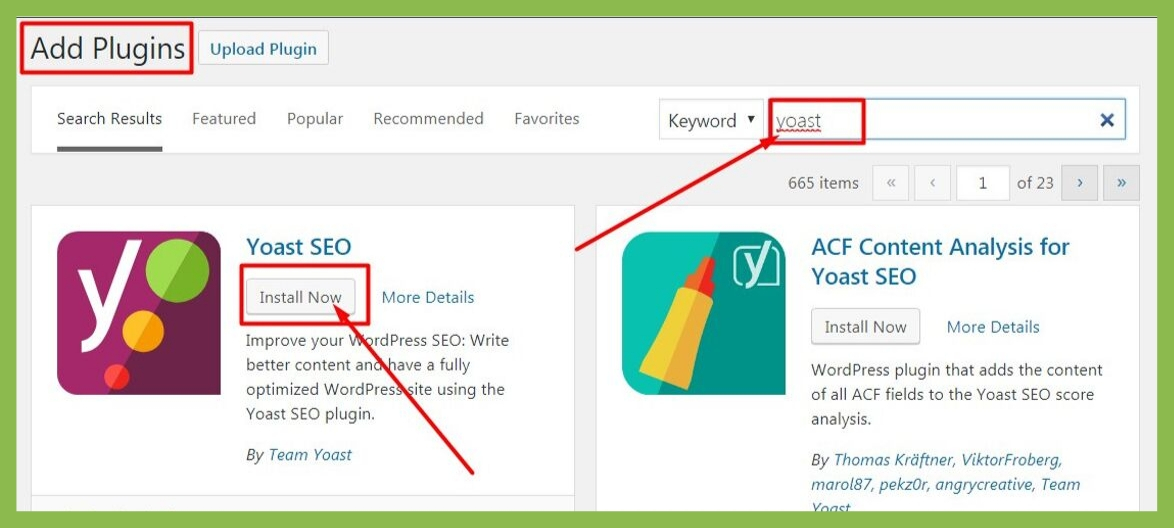 After installing you will need to make it active. By clicking the active button.
Before anything, there is still one important thing to follow up…..
You will need to change your permalink URL to the SEO friendly URL. Why?
Because it will help to make your site SEO friendly and more important the main keyword always lies in post URL. So, always add the main keyword in your URL. Make your URL no longer than 4-5 words.
If you see any disturbance in your post URL like: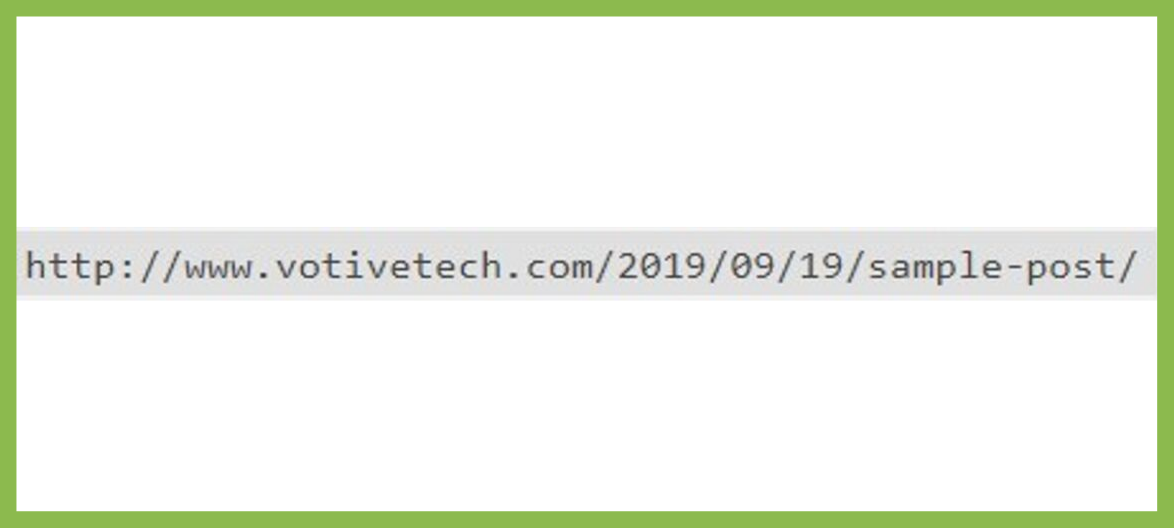 You can see there is 2019/09/19 date format in URL which makes Search Engine really hard to decide what kinda website is this. So make your URL friendly like: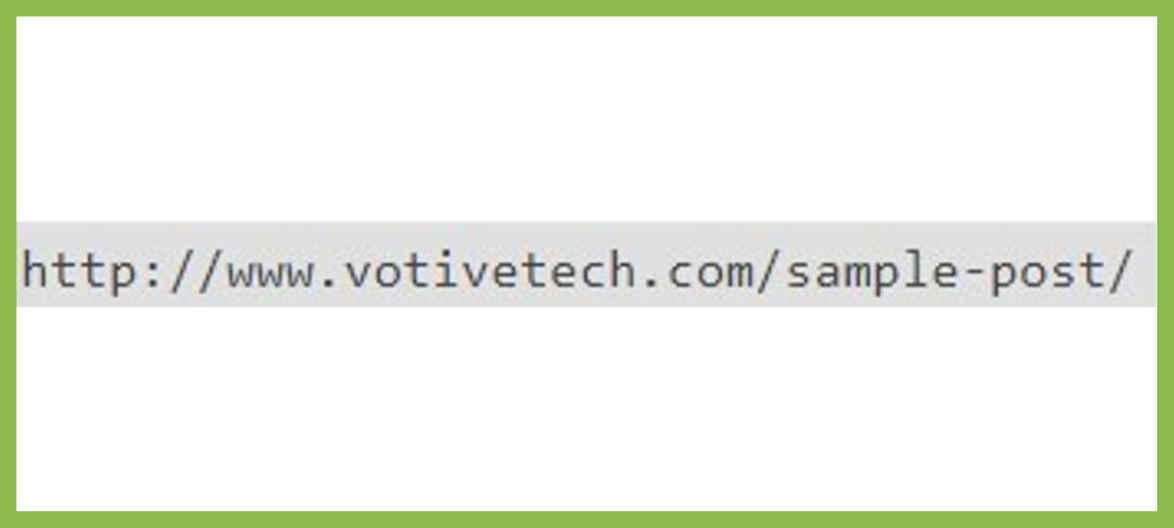 You can see there is no date format but simply a blog post title. Which makes the search engine really decide to know about your URL.
To make URL friendly to SEO.
Go To Setting > Permalink
Check on Post Name. See image below.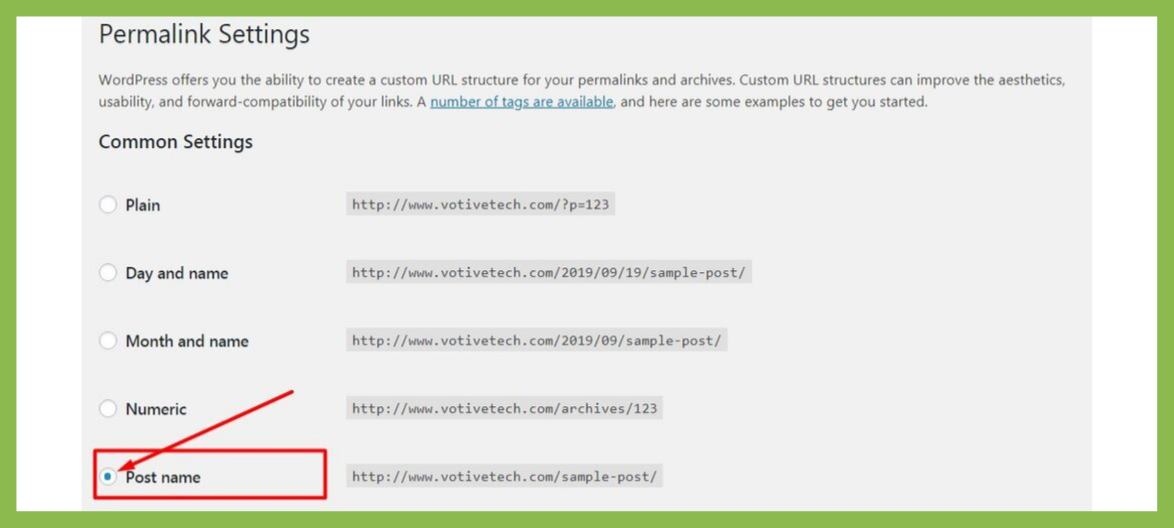 And press Save Changes. Congrats now you are all set to go up.
Yoast SEO Settings
Now, it's time for Yoast SEO. After installing and activating Yoast SEO you will see.
Click on Dashboard. Now Go to Feature Tab.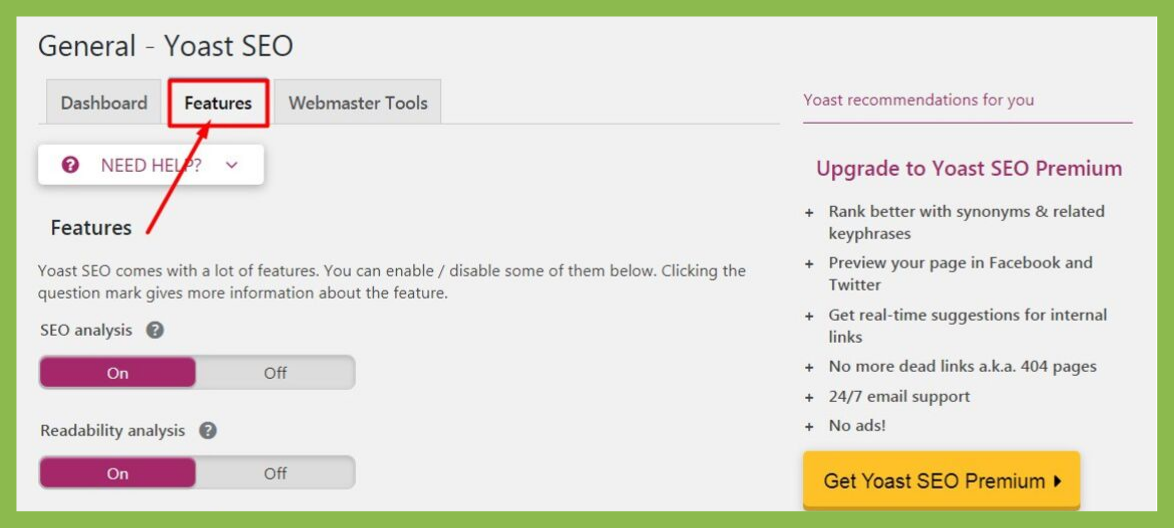 Enable Advance Setting page Option.
Now click Save Changes.
Now you can see full option.
After you are able to see all option Go To Title & Metas.
And then Go To> Post Types
Post Type is the variables from the partial list below to create your own templates for the titles and meta descriptions. Just go to SEO → Titles & Metas.
Make Index all the Post types.
Again, Make index on all types of Pages.
But don't make index to Media and Libraries.
And click save changes.
By this way, you are not making Search Engine confusion about the posts and pages you have.
Once again go to Taxonomies. And make changes as I did in the image for Categories and Tags and same for Format too.
Click save changes.
See here for proof:  https://moz.com/community/q/yoast-seo-plugin-to-index-or-not-to-index-categories
Finally, Go To Archives.
And do changes as I show
And click save changes.
Now after making all the changes just leaving it is not enough you need to make many changes time to time.
When editing any post or page in WordPress you will now see a metabox below the post editor labeled Yoast SEO.
You can click on the title in the snippet preview to edit it. You can also click on the edit snippet button to add title and meta description for the post or page you are editing,
Your post title, and your SEO title might not be the same. Every time, you should write a custom Meta Description because the excerpt generator only picks up the first paragraph which might not be the most important one.
Make sure you select a focus keyword, so you can get analysis on how strong your page is for that keyword.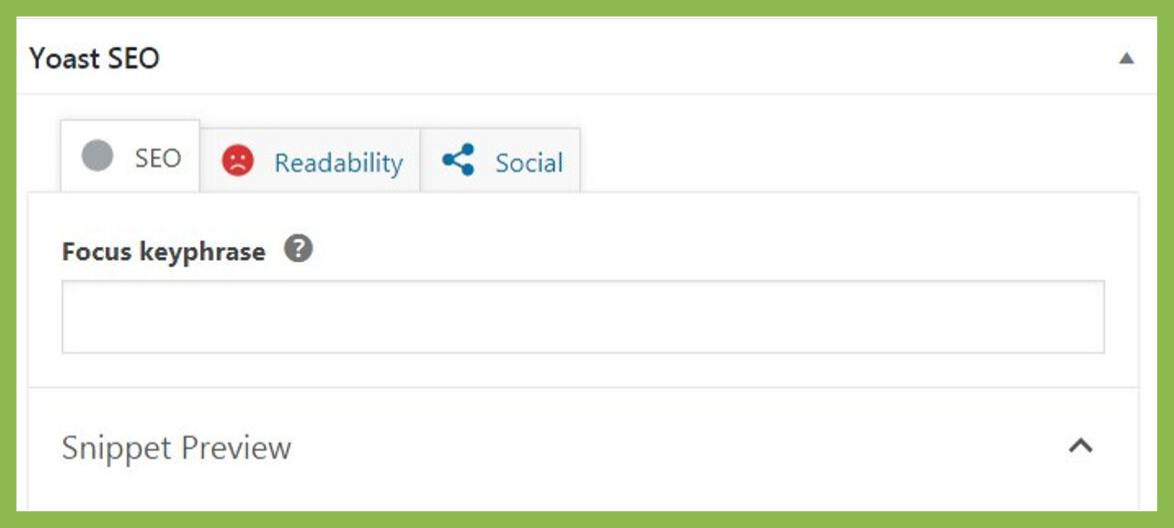 Once you click Save the post you will see analysis of the post below snippet preview. This gives you even further insights about your specific post or page.
Now you are fully prepared and your website is all set to go up for SEO.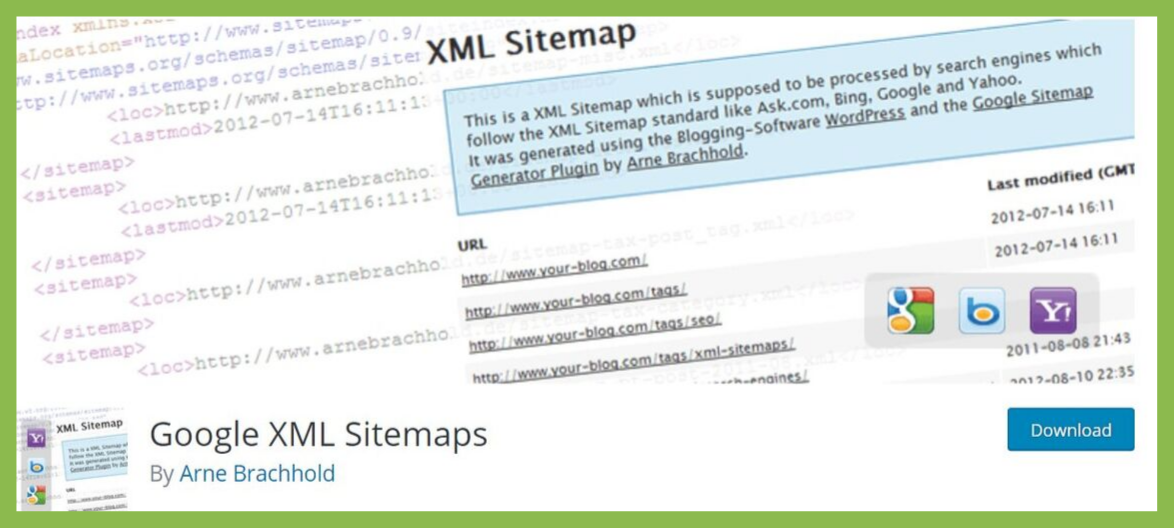 An XML sitemap is a file where you can list the web pages of your site to tell Google and other search engines about the contents of your site or blog. Search engine web crawlers like Googlebot read this file to more intelligently crawl your site.
So, you will need to generate sitemaps of your site in an efficient way that every search engines can crawl your site easily.
For this problem solution, there is a WordPress plugin called Google XML Sitemaps. This is a very useful tool which will help to generate your blog post or website sitemaps by its own all you need to do is install and activate this plugin in your WordPress.
How does it work?
Google XML sitemaps help to create a dynamic sitemap of WordPress blog which is compatible with Google, Bing and Yahoo webmaster tools.
After you create a sitemap all you need to do is submit it to Google or Bing.
Features of Google XML sitemaps are:
Available in different languages
Generates automatically a sitemap for all types of WordPress pages
Calculates a priority for each post, based on the number of comments
Notifies various search engines about changes
Generates a static XML file as well as a zipped version
Here you can find this plugin: https://wordpress.org/plugins/google-sitemap-generator/
And never forget to submit your sitemap to Google or Bing webmaster tools. If you don't submit your Sitemaps to search engine then there is no use of Google XML Sitemaps plugin and your website won't get crawled by Google as well.
Note: I would never recommend you to use Google XML Sitemaps plugins and Yoast SEO plugins at a time. It can harm your search result. So, never use this plugin at once.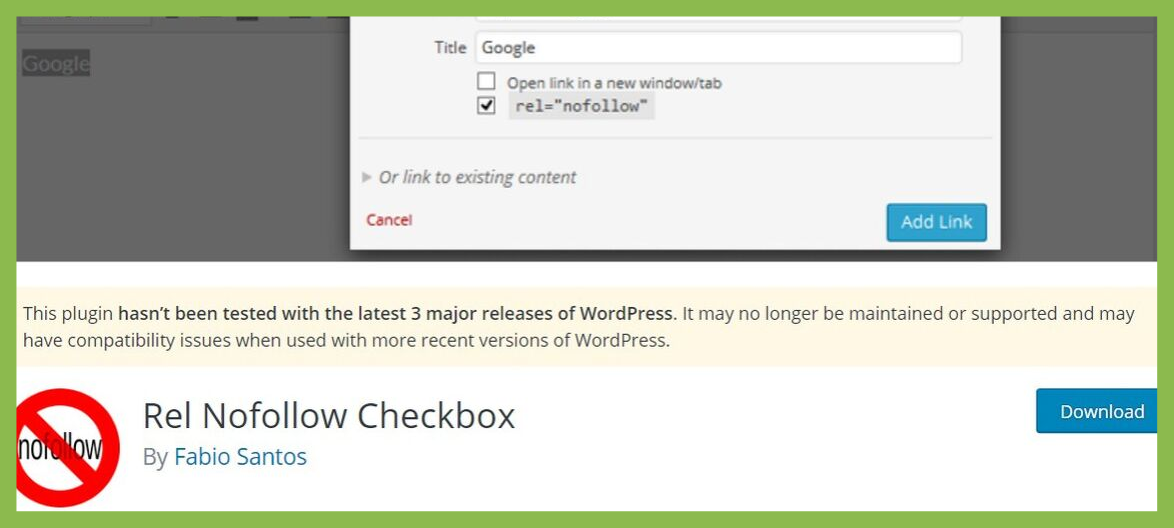 What is nofollow?
When the search engine spider sees nofollow on the link, it does not follow that link to the new site; not count the link towards it's popularity score in their ranking engine; and not include the link text in the relevancy score for those keywords. so, search engines will not penalize your site or blog for links that have nofollow on them.
This plugin adds a simple checkbox in the insert/edit link popup for including nofollow attribute.
You will need this plugin before starting a blog or website. When you are adding another websites or blog link in your website then you are giving away your authority to another website as well.
So, if you don't want to share your authority to other than you need to add this plugin in your website or blog.
Rel NoFollow Checkbox is very simple and easy to use WordPress plugin  This popup already has a checkbox which allows you to open links in new tab.
Now, whenever you are adding an external link you can easily make it nofollow by simply checking a box.
I will always recommend you to use these WordPress plugins cause it is not a good idea to share your authority with any other sites or blogs.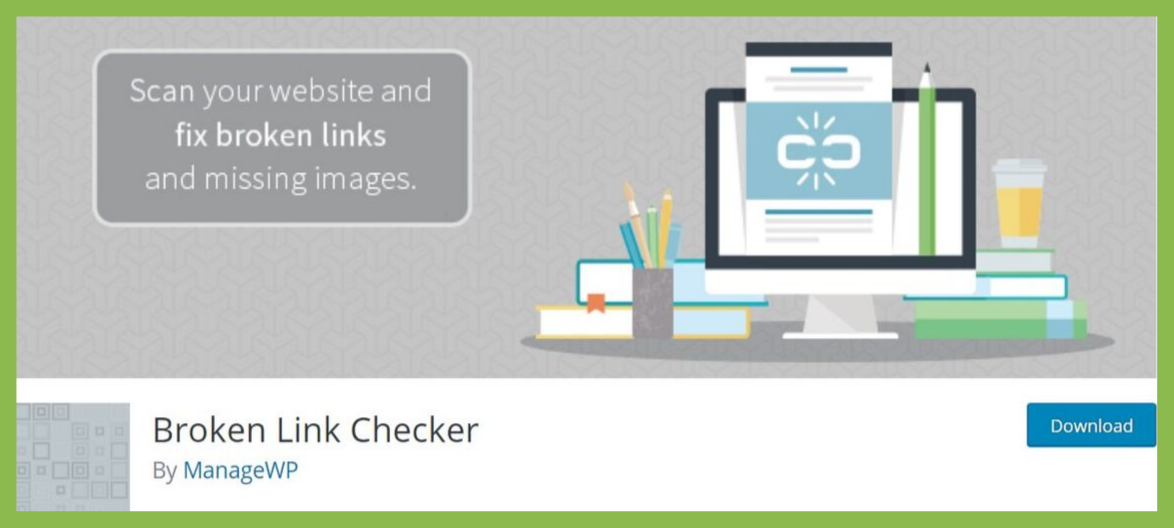 Broken Link Checker is a very essential plugin that you must or need to have in your WordPress blog or websites.
Actually, having a broken link in your websites or blog is not a good idea. It can decrease your rank in google and you may lack visitors in your websites or blog.
What are the broken links?
Broken links are links which don't link to an existing page. It's a "dead" link and contains a 404 error code.
In the past, you might have linked to some page on some website, but that page has since been removed. This causes a broken link. When a visitor follows that link, they will get a 404 error page.
So, you need to fix your broken link. But it can be a hard job for you but there is easy work for you just install and active this plugin gonna work you well.
It doesn't matter which platform are you using (WordPress or otherwise), broken links on any site are not good for SEO. Whenever you do an SEO audit of your website, make sure to use Broken Link Checker.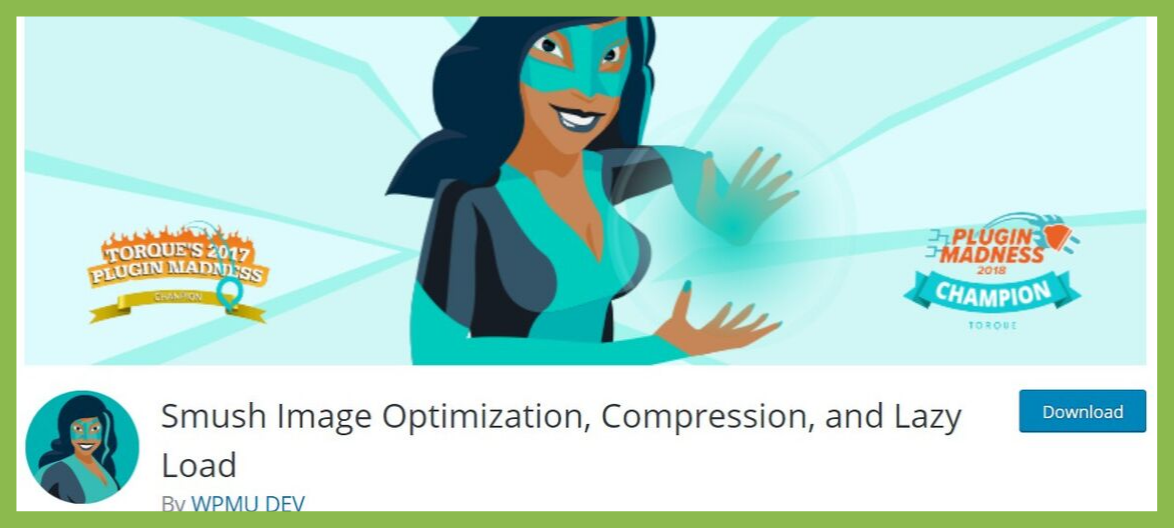 It is very important and one of the best WordPress plugins you will need in your website or blog.
Resize, optimize and compress all of your images with the incredibly powerful and 100% free WordPress image smusher.
Images take lots of space in blog or website. It can increase your blog weight and makes it heavy.
Slow websites make your site or blog rank come low in Google Search Result.
WP Smush meticulously scans every image you upload – or have already added to your site – cuts all the unnecessary data and scales it for you before adding it to your media library.
It decreases your image size which will result in a decrease of your page size and if your page size decreases it takes minimum time to load your site.
The site which loads fast has a very good high rank in google. it is key factor to rank your websites or blog on google as well.
FEATURES OF WP SMUSH:
Optimize your images.
Set maximum width and height and large images will automatically scale before being added to your media library
Process JPEG, GIF, and PNG image files.
Optimize any image in any directory.
Manually smush your attachments individually in the media library, or in bulk 50 attachments at a time.
Smush all standard web-sized images 1MB or smaller.
Global and individual settings for Multiple sites.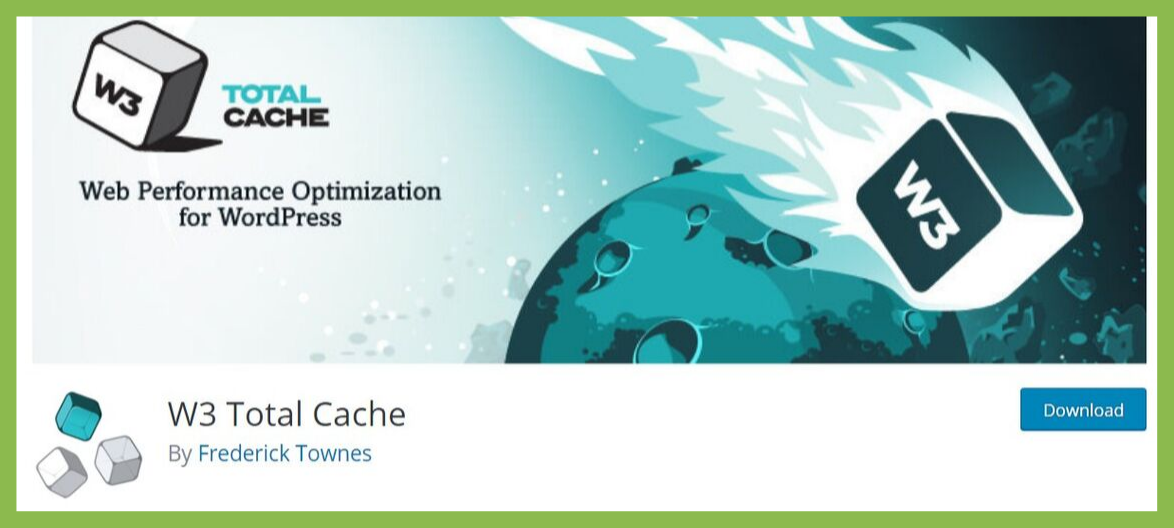 With over more than 1+ million downloads, this tool is worth trying.
W3 Total Cache improves the SEO and user experience of your site by increasing website performance, reducing download times by using special features like a content delivery network (CDN).
What are the benefits?
Improvements in search engine result page rankings\
At least 10x improvement in overall site performance
Improved conversion rates\
"Instant" repeat page views: browser caching
Pages start rendering quickly and can be interacted with more quickly
Reduced page load time
Improved web server performance
Up to 80% bandwidth savings via minify and HTTP compression of HTML, CSS, JavaScript and feeds
So, these are the key benefits you are going to get using this tool. World top companies are also using this tool due to its user-friendly systems and this tool work.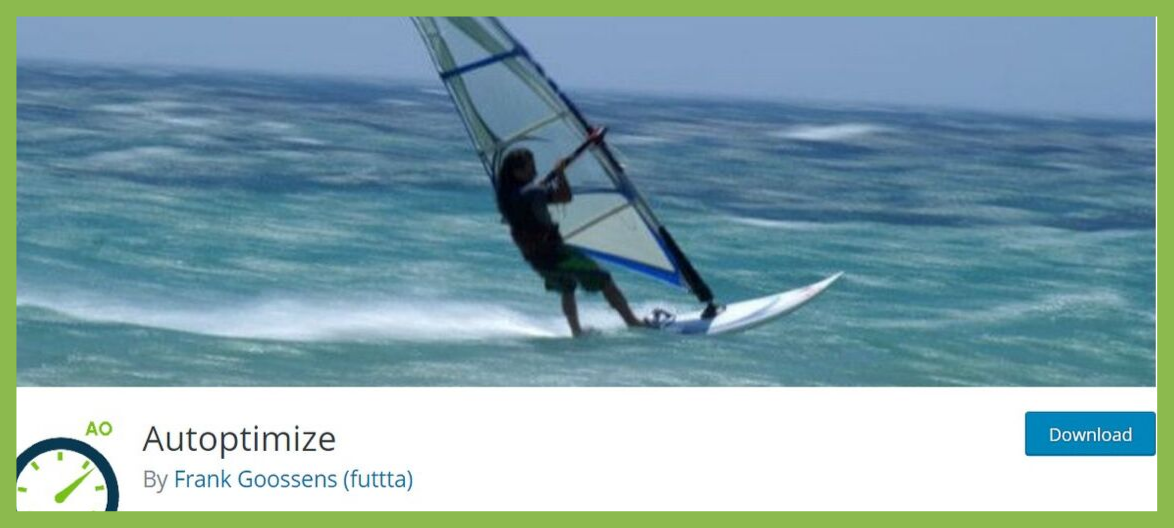 Very needy and another powerful WordPress plugin is Autoptimize.
Autoptimize makes optimizing your site really easy. It can aggregate, minify and cache scripts and styles, injects CSS in the page head by default and can move and defer scripts to the footer. It also minifies the HTML code itself, making your page really lightweight. There are advanced options and an extensive API available to enable you to tailor Autoptimize to each and every site's specific needs
The plugin speed up your website and helps you save bandwidth by minimizing JS, CSS and HTML. I love this tool and also personally recommend you to use it, since I start my blog I am using this tool and also find it super easy to use. And I have seen considerable performance improvements.
Actually, It concatenates all scripts and styles, minifies and compresses them, adds expires headers, caches them, and moves styles to the page head, and scripts (optionally) to the footer. It also minifies the HTML code itself, making your page really lightweight.
With already over more than 300K user this plugin is absolute fit for your blog.
The main work of this plugin is to reduce size of Javascript and CSS to reduce slow time. Don't worry you won't get in trouble if it minimizes your CSS or Javascript. Instead you see a huge improvement in your site and your site speed may go much more faster than it was in previous time.
By using this wordpress plugin the right way, you can make your website a lot better and faster. Your visitors will notice also!
Tip: Take a look at the stylesheets and scripts that load before you activated Autoptimize. And compare it with the stylesheets and scripts after you activated it.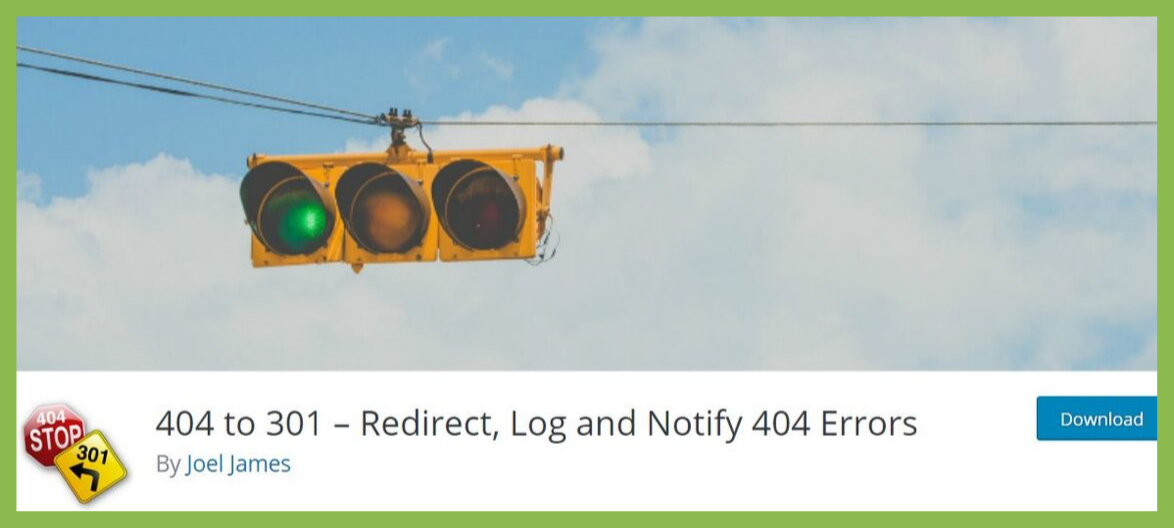 Earlier we talked about Boken links which are not good for our website. Whenever you delete a post or page it will show 404 error and if we do not have any custom 404 page it will show in Webmaster which is a very bad sign.
With the help of 404 to 301, you can redirect all 404's URL to a specific page or home page.
404 TO 301 – FEATURES
No more 404 error.
Custom redirect to each page.
Enable email notification for your 404 errors.
It will increase SEO because no more error shows in Google webmaster.
User and developer-friendly.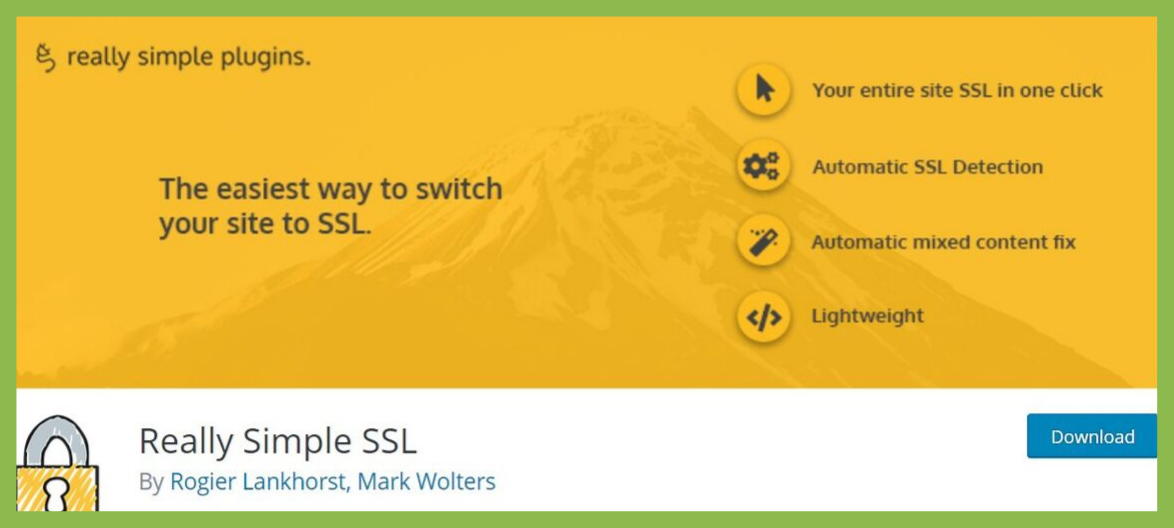 This plugin "automatically detects your settings and configures your website to run over https".  Although you still need an SSL to work it, Really Simple SSL makes it effortless to set it up.
Google release a blog where they say "We are not showing insecure URL in Google".
Really Simple SSL Features
HTTP to HTTPS redirect.
301 .htaccess feature enable.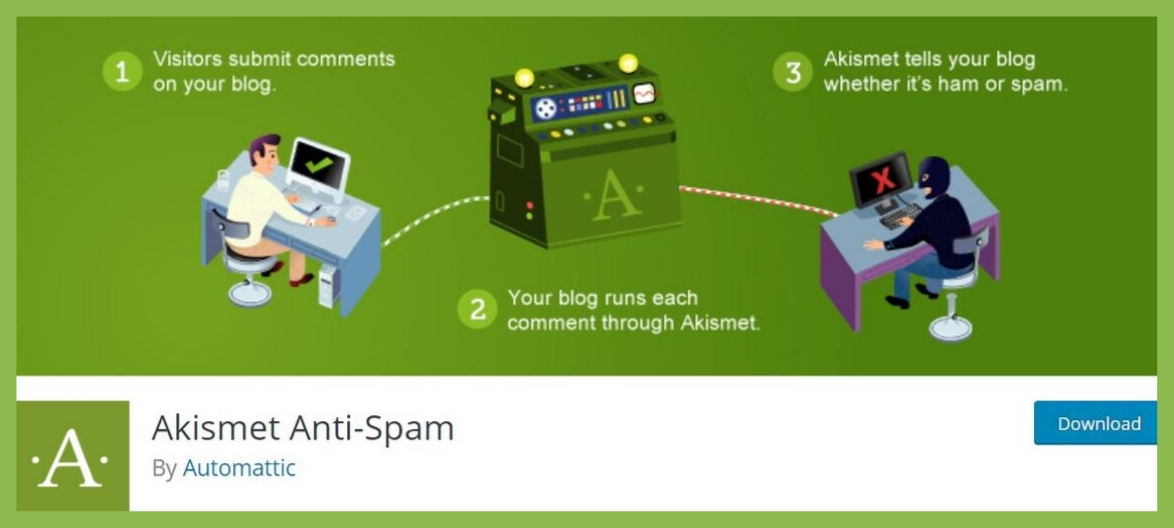 This plugin will help you to prevent the spam on your website. It will block spam comments and show on the comment section on your admin area.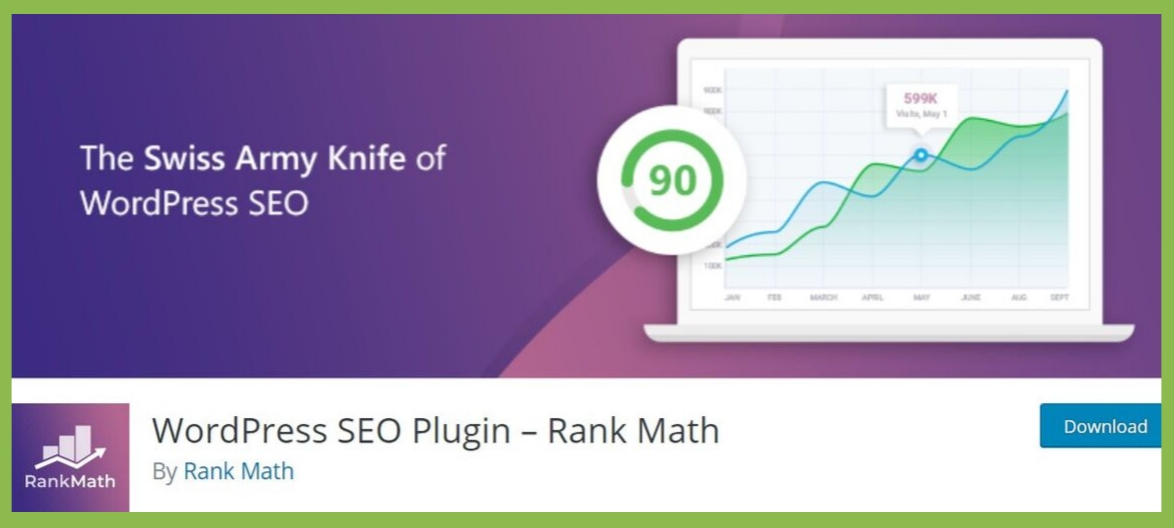 Many SEO gurus told you about Yoast SEO or All in One SEO but there is the new winner in the WordPress SEO plugin race which is Rank Math.
It is all in one SEO tool like the set meta title and description, check 404 error, image optimization, etc.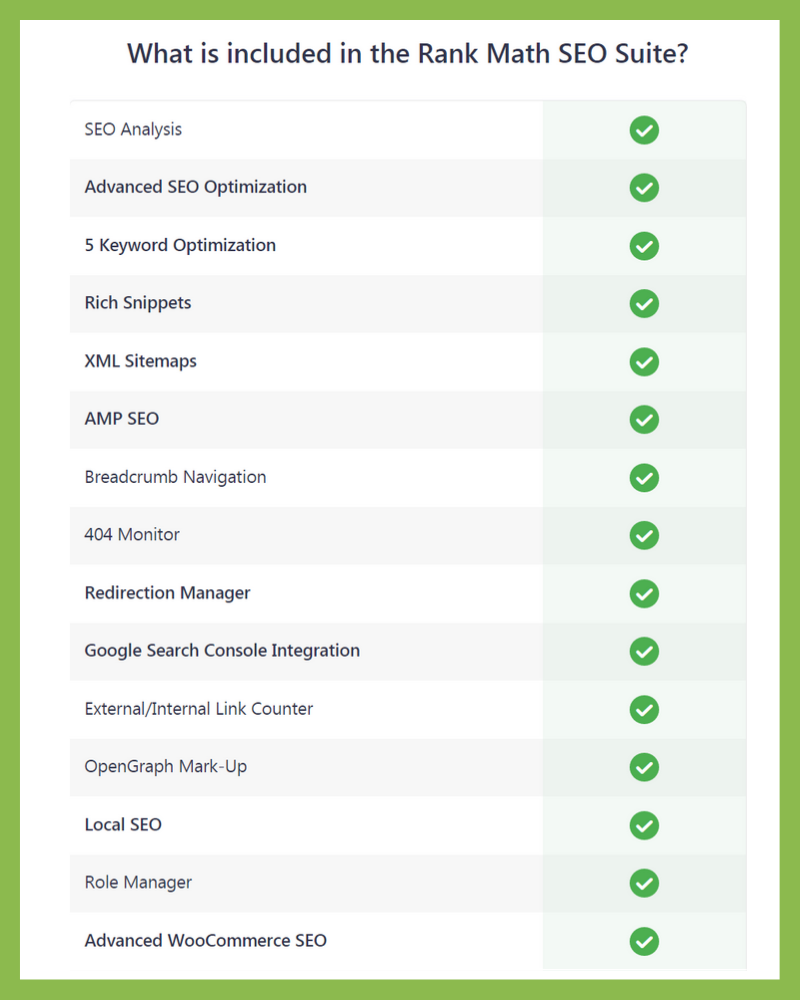 Rank Math SEO Features
Advanced SEO Optimization
Keyword Optimization
Rich Snippets
XML Sitemaps
AMP SEO
Breadcrumb Navigation
404 Monitor Redirection Manager
Google Search Console Integration
External/Internal Link Counter
Benefits Of WordPress For Business Website Development
From a personal blog to a feature-rich website for business, nearly one-third of the websites use WordPress. Among brands that use WordPress, there are few exceptionally large companies such as Sony, Time Inc., the New York Post, and NBC.
There are many reasons why such large companies prefer WordPress as their default content management system. Here are the top 5 benefits of using WordPress as the default content management system.
Scalability
There is a constant need to update content on the website and content management system like WordPress helps one do that. The change can be the addition of new web page, feature, modification of current web pages, etc., WordPress supports it all.
To add a new feature, WordPress offers provision to add plugins. A plugin can be used to add new features such as improved analytics, enhance security, and integrate WordPress with other third-party applications such as CRM and ERP systems.
Easy to Use
To set up a WordPress website, a business owner needs server space and domain name. The WordPress content management system is available free of cost from wordpress.org. Installing the content management system can be done from Cpanel or any other management tool provided by the hosting service provider. During installation, the WordPress setup will guide the website owner through multiple steps. Once configured, the website owner can login and start making changes to manage the website.
Affordable
A standard WordPress website involves paying the cost of hosting space and domain name. As a part of the marketing campaign, it is common for hosting service providers to give free domain name with the hosting package.
WordPress offers several free themes that can satisfy the business requirements of startups and small businesses. Developed using open source technologies, getting support is easy and affordable. For medium and large scale businesses, development of an industry-specific theme and plugins, for additional features, might be required.
Security
The default installation of WordPress offers basic security. By adding an SSL certificate along with minor changes in the code, a business owner can secure the website. There are few paid plugins that can make automatic changes to improve the security of a WordPress website.
Common examples of WordPress security plugins are Wordfence Security, iThemes Security, Sucuri Security, etc. For enterprise-level security, one can consult a WordPress design and development agency for professional help.
Customizable
The core of WordPress is designed in such a way which compliments customizability. Although, the core of WordPress can be modified, however, it is not recommended as it can hamper other aspects of the system.
Customizations can be done without affecting the integrity of the WordPress core, which is essential to receive timely updates. As the core is separate from the rest of the system, one can customize the website design and develop plugins to add new features without affecting it.
With over 31% of websites using WordPress, this budget-friendly content management system is here to stay. As WordPress is scalable and open source, it is being used by a number of organizations that range from early-stage startups to Fortune 500 companies. For a business owner, WordPress packs the right set of options and can easily fit in budget for additional customizations, if required.
 Conclusion
With regular use of these plugins and daily use of these best WordPress plugins, you are gonna increase your page rank and page speed in Google search result which will gonna drive you tons of traffic in your blog and also able to generate huge profit for you.
Negative use of these WordPress plugins can damage your blog or website rank and may slow down also read every plugins tutorial before using it. Never use plugins if you find it as a hard to use.
There are always tons of alternative be sure to check or you can check out our WordPress development services where we can customize or install these plugins on your website without any hustle.