AngularJS Development Service
Votive Technology focuses on developing excellent products and solutions using Angular JS and other JS frameworks such as Ember JS and Node JS - irrelevant for web or other mobile cross-platform applications.As we all know, Angular JS is one of the best open-source MVC frameworks for providing cross-platform applications and front ends. Our developers also leverage Angular JS to create cross-platform application prototypes along with web application development. Together with the ion application development framework, Angular JS is the best tool for development purposes.
Why Angular JS?
AngularJS was released in 2010 and has become very popular in these eight years due to its versatility and ease of use.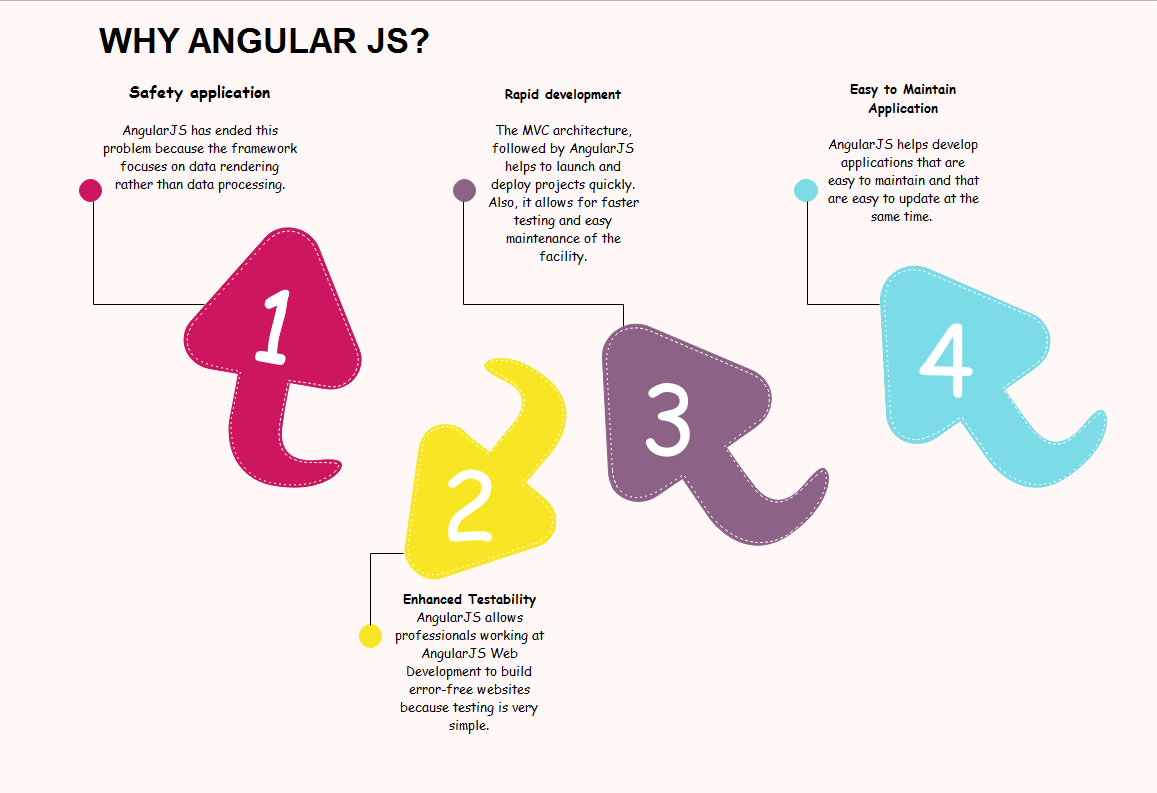 It reduces the amount of work required to write complex code, allowing programmers to build feature-rich applications.
The AngularJS platform is widely accepted around the world, and many business leaders are choosing this platform and choosing a reliable AngularJS web development company to build their web applications.
Safety application
The latest updates to technology often lead to significant concerns about security and protection. AngularJS has ended this problem because the framework focuses on data rendering rather than data processing. Communication with the server is done through secure HTTP calls and restful APIs and Web services to help communicate. AnguarlJS Web Development Company follows the ideal security procedures to enhance the security of AngularJS applications.
Need less effort
Developing responsive web applications with AngularJS is a quick and easy process; one of the biggest reasons why the framework is popular with most developers. Eliminates the need to write lengthy MVC pipelines. AngularJS uses HTML to build views and adds some properties to the HTML code. The amount of code required to write data to the server and bind data using AngularJS Development Services is very small. This framework enables developers to quickly build small, highly interactive, and simple applications without much effort.
Manageable access
The main concern of enterprises is infrastructure security. When companies improve their applications to fit AngularJS, the biggest concern is the access granted and the limits required for each level. AngularJS provides the flexibility to integrate domain systems and application logins with secure streams.
Rapid development
The MVC architecture, followed by AngularJS helps to launch and deploy projects quickly. Also, it allows for faster testing and easy maintenance of the facility.
Enhanced testability
AngularJS allows professionals working at AngularJS Web Development to build error-free websites because testing is very simple. The test provides a clear concept of the area with an improved range, allowing for easy debugging during development. Using AngularJS results in need to upgrade and fix issues at specific intervals.
Provide modularity
Modularity is one of the most important parts of the AngularJS framework. It allows developers to build multiple modules for a single web application. Each module depends on another module, and all modules can be combined to run the entire application. The framework automatically recognizes the need to add additional modules.
Easy to maintain application
AngularJS helps develop applications that are easy to maintain and that are easy to update at the same time. Enterprises rely on this framework to build responsive web applications because once the application is installed, you can start using it. You only need to be careful when you need to debug some issues or update some content. Website maintenance is easy because it uses the object-oriented design on the client-side.
Our AngularJS Development Services
Web app development
Framework Plugin Development
Single page application using AngularJS
QA and Testing

3+ Years
Mobile Experience

6+ Years
Web Experience

5+ Years
online Marketing

700+
Worldwide Clients